Tottenham have been dealt a 'big blow' following Arne Slot rejection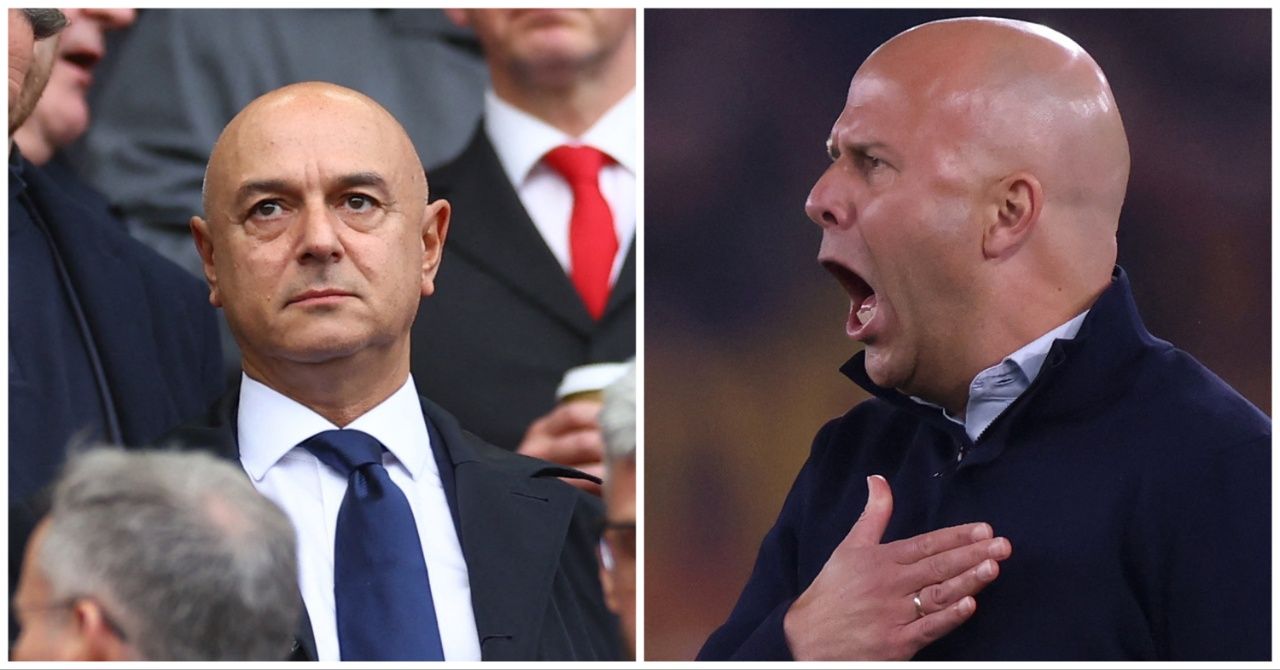 Tottenham Hotspur's chances of appoitning recently sacked Premier League managers Brendan Rodgers and Graham Potter have been dubbed as a "non-starter", journalist Dean Jones has suggested to GIVEMESPORT.
Spurs chairman Daniel Levy is now scrambling around to find a successor to Antonio Conte, after Feyenoord head coach Arne Slot rejected the Lilywhites' advances at the Tottenham Hotspur Stadium.
GiveMeSport VIDEO OF THE DAYSCROLL TO CONTINUE WITH CONTENT
Tottenham manager news – Arne Slot
According to sources in the Netherlands, Slot has chosen to remain at Feyenoord over making the switch to Tottenham and will sign a new contract with the Eredivisie outfit.
The rejection sends Levy and Spurs back to the drawing board as they look to get a new head coach in for the beginning of the 2023/24 season.
Former manager Mauricio Pochettino looks set for the Chelsea job, but ex-Bayern Munich boss Julian Nagelsmann is reported to be back in the running, as per the Daily Mail's Sami Mokbel.
Italian journalist Rudy Galetti has recently told GIVEMESPORT that Sporting Lisbon head coach Ruben Amorim has been identified as a potential long-term successor to Conte at the Tottenham Hotspur Stadium.
But Jones believes that the club may have to look in the "cheap or currently unemployed market", and has indicated that Spurs fans may wonder about the possibility of appoitning Rodgers or Potter, who were recently sacked from Leicester City and Chelsea respectively.
What has Jones said about Tottenham?
Jones told GIVEMESPORT: "The Slot turnaround is a big blow, and I can see why fans find it embarrassing. Everything has been positive to this point, and it felt like his direction for the club was a good fit, yet financially it seems to have been a step too far for Spurs. That was always going to be a potential problem over the final approach to this.
"This looks like the big issue now. Are we at the stage where Spurs will appoint someone cheap or currently unemployed?
"You look through potential candidates now, and Ruben Amorim and Julian Nagelsmann have big compensation fees attached to them. Even if Spurs were to look down the route of Marco Silva at Fulham, they would have to pay up to get him and his staff, same with Thomas Frank at Brentford. Roberto De Zerbi surely won't be leaving Brighton for them at this moment.
"If you start to whittle it down in that sense, you can see the funnel effect and how you are suddenly left with a shorter list of names. I know Spurs fans that wonder about the chances of Brendan Rodgers or Graham Potter coming in but up to this point, I have been told that has been a non-starter, so again, that has looked very unlikely. It might be the case that Spurs now have to go and explore that avenue, but everything I have heard makes me think both would take a lot of negotiating and persuading.
"Ange Postecoglou and Luis Enrique are two other options that get spoken about. They're both very different in terms of their experience and personality, and what you start to wonder is how are Spurs looking to build here. What is the identity of the team going to be?"
What next for Tottenham?
Tottenham's next steps from here are anybody's guess.
As Jones says, it's unlikely that Brighton & Hove Albion head coach Roberto De Zerbi and Fulham's Marco Silva will up sticks for the Tottenham Hotspur Stadium, given the success they are enjoying at their respective clubs.
Meanwhile, journalist Miguel Delaney reports that Spurs are now "strongly considering" Celtic manager Ange Postecoglou, who has just won his second consecutive Scottish Premiership title at Celtic.
And The Telegraph suggests that Luis Enrique joins Postecoglou on the club's manager shortlist, hinting that it could be some time before the Lilywhites can confirm their next manager.
Football Transfers have even claimed that Rodgers has been offered the opportunity to become Tottenham manager, whilst the club are keeping their options open with Potter and Enrique on their shortlist.
However, the rejection from Slot will disappoint Levy and Spurs fans as the club continues to struggle in their search for Conte's long-term replacement.
Video