The New Playmaker: Alexander-Arnold's Impact on Liverpool
Embracing a New Role
In a recent internee with James Pearce of The Athletic, Liverpool's Trent Alexander-Arnold explained how he received  a unique proposal from his manager, Jurgen Klopp. A day shy of welcoming Premier League leaders Arsenal to their fortress at Anfield, Liverpool was in dire straits. An exit from the Champions League at the hands of Real Madrid and a dismal league performance begged for a tactical resurrection, a shift in their game.
Enter Trent Alexander-Arnold, the prodigious right-back, the focal point of Klopp's ambitious plan.
Recalling the day, Alexander-Arnold said, "The gaffer handed me the tactics sheet on the training pitch at Kirkby's AXA Training Centre. While our defensive strategy remained untouched, his vision for me, offensively, was revolutionary. He wanted me as a second No 6, central to our inside play control. It was exciting and challenging at once."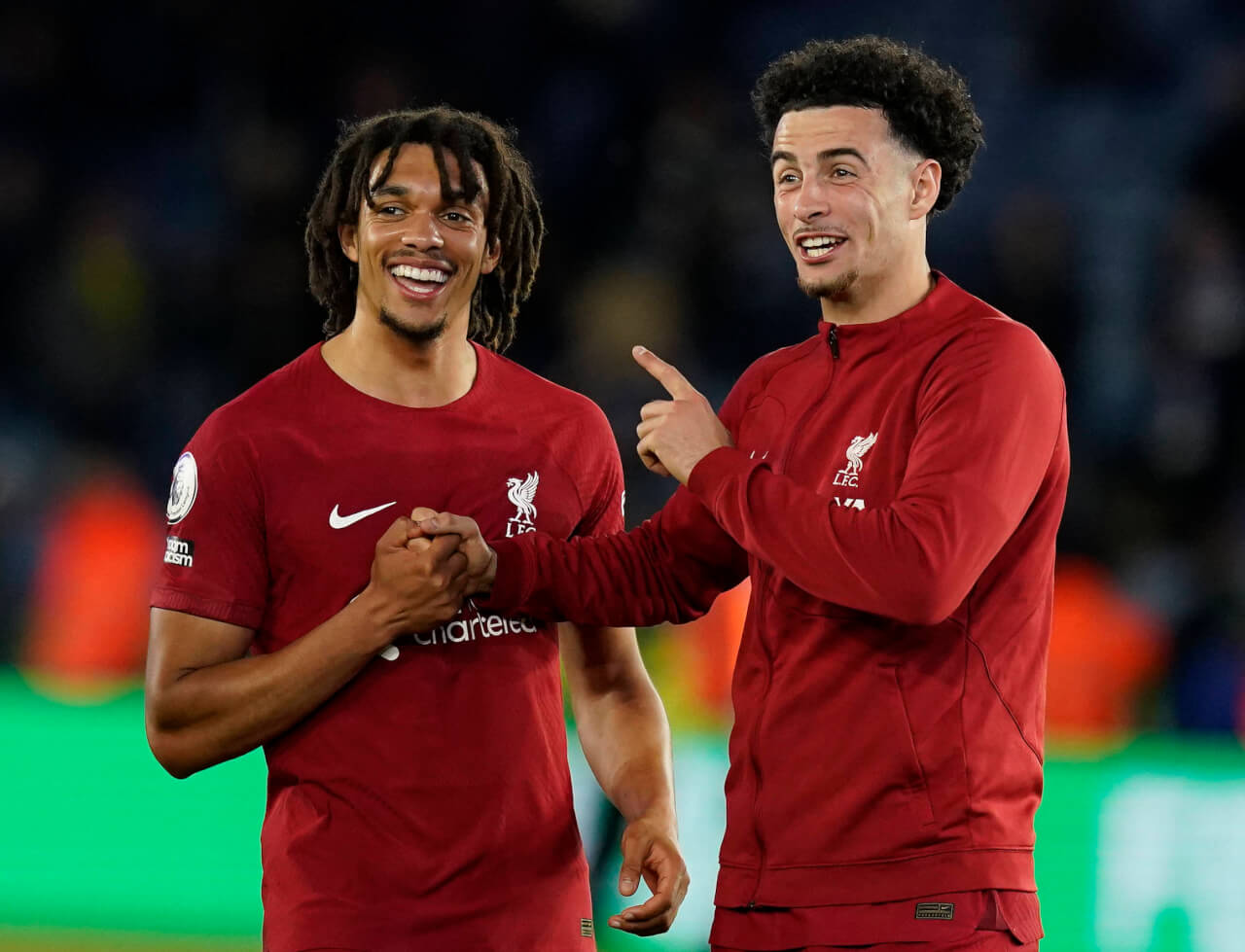 Photo: IMAGO
Changing the Game from Within
A day before their match against Arsenal, the Liverpool squad couldn't devote significant time to familiarise themselves with the new strategy. They were to learn on the go. And learn they did, in an exhilarating comeback from a 2-0 deficit, leading to a draw courtesy of Alexander-Arnold's expert assist to Roberto Firmino.
Curtis Jones and Trent Alexander-Arnold: Pressing Icons
With the new system in place, Liverpool has been on a remarkable journey, winning seven successive league matches and reigniting Alexander-Arnold's fiery form. With one goal and six assists in his name, Alexander-Arnold reflects, "It feels good, it feels natural for me. I'm able to affect games, change games, and dictate games. This position opens up the whole pitch for me, allowing me to orchestrate the game."
The Challenge of Tactical Adjustments
For the dynamic right-back, this new role has demanded a shift in his tactical approach. "It's different," he admitted. "As a right-back, I've always had the touchline behind me. Now I need to know what's around me to a greater degree."
Despite the initial challenges, Alexander-Arnold's performance in this hybrid role has been pivotal in Liverpool's recent resurgence, culminating in a stunning strike against Leicester City, a testament to his reinvigorated form.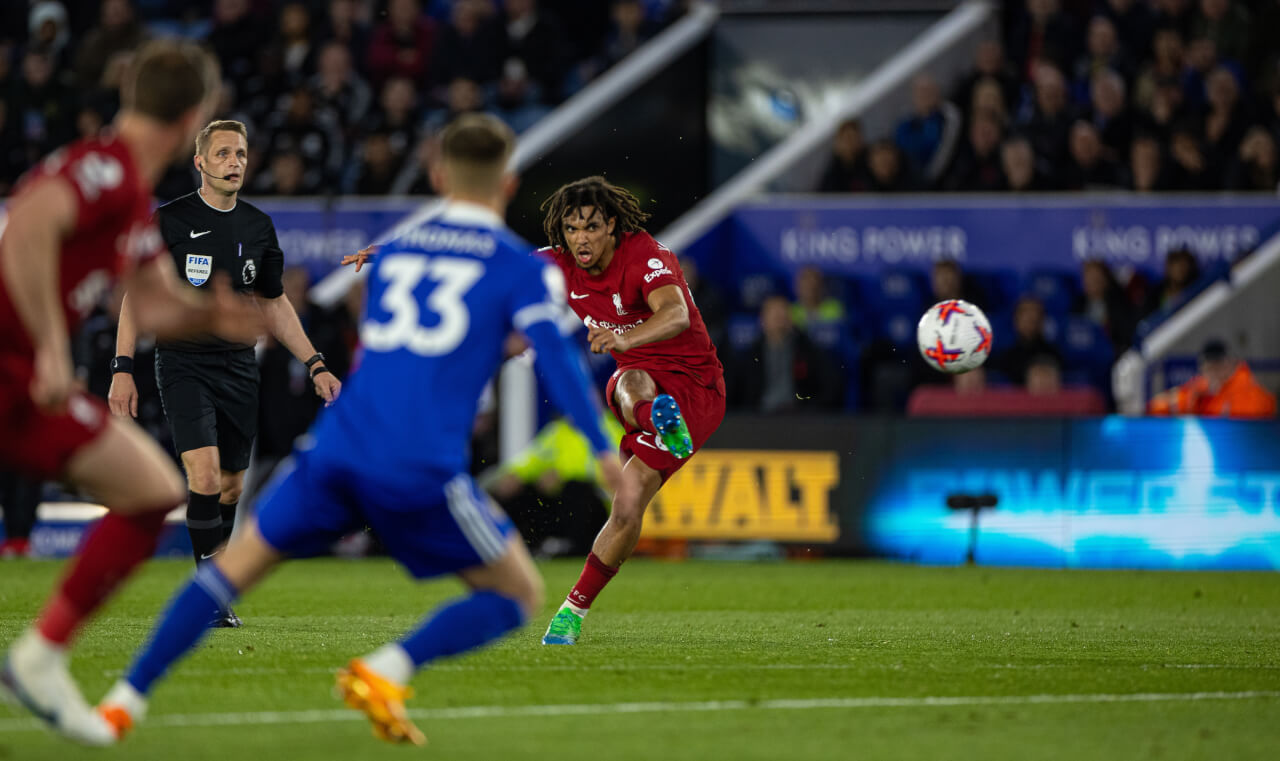 Despite the lauds heaped on Alexander-Arnold for his adaptability, he is quick to credit his teammates for making the new system work so effectively. "It's the obvious one but everyone has to play a different role," he explained. Ibrahima Konate's cover on the right flank, Andy Robertson's reduced attacking forays, and increased responsibility on other players – all these subtle changes coalesce to form the new, successful Liverpool system.
From Right-Back to Midfielder
The next big question: is Trent Alexander-Arnold still a right-back, or has he evolved into a midfielder? After a thoughtful pause, he responded, "I'm both. With the ball, I see myself as a midfielder. Without the ball, I see myself as a right-back."
Alexander-Arnold's transformation has mirrored that of his club – a change born out of necessity that has become an asset. Regardless of his role, he stands as a beacon of home-grown talent in the Liverpool line-up, alongside Curtis Jones, another Scouse prodigy. "It's special having two Scousers in the team," he beamed.
Liverpool Contract News: Trent's Future Revealed
Looking ahead, Alexander-Arnold is prepared for what may come. With the departure of vice-captain James Milner.Fetching query-document similarity vectors from trained ALBERT at the end of the season, there's been speculation about Alexander-Arnold taking on a leadership role. As it turns out, the Liverpool academy graduate isn't shying away from this responsibility. "I'm ready," he said with an assured smile. "It's a huge honour to potentially be considered. This club means everything to me."
Alexander-Arnold's journey at Liverpool has been nothing short of remarkable. His tactical shift from a traditional right-back to a dynamic midfield presence has proved fruitful for both the player and the club. His adaptability, combined with his innate understanding of the game, make him a vital cog in Klopp's red machine.
This summer, Liverpool fans will likely see Alexander-Arnold in a new role, not just as a key player on the pitch, but also as a potential leader off it. If he continues to thrive in this dual role, there's no telling how much more he could bring to the team. In every sense, Trent Alexander-Arnold is the Liverpool heartbeat – keeping the rhythm, directing the flow, and always pushing for more.
Video How Trent Alexander-Arnold's new role is transforming Liverpool