Pre-Match Analysis: What can Brighton expect from AEK Athens?
Brighton will host AEK Athens in a massive game in the clubs first ever European fixture in what will be a massive evening for the club. Having come from rough roots when they almost went broke to now playing in the Europa League the club has faced many challenges however this will take things to a new level.  
How will the styles fair?
Roberto De Zerbi's innovation has taken Brighton into the Europa League however the continental style of AEK Athens will provide a different challenge. Against tougher opponents, AEK Athens play with a deeper line against stronger opposition, and this is likely to happen again. This won't play into Brighton's' hands as well because they will rarely get pressed by the AEK forwards so will struggle to create the overloads that they want to in the forwards areas and there won't be many spaces for their dynamic forward line to run into and therefore they will have to play slower and with more patience and this isn't when they are at their best. For example, when they played against West Ham they couldn't create any clear-cut chances and ended up losing 3-1 despite having 80% possession. 
How will Athens defend themselves?
AEK Athens have also got a very unique shape. They split the pitch in half and have five men on each half of the pitch, this innovative tactic has many advantages as it will mean Brighton won't be able to spread the ball wide and therefore the pitch will be made smaller. This again will mean Brighton will have to go away from the way they usually play as they would have looked to take the ball wide and then use intricate one-touch passing to get around the defence however by Athens packing out the wings it will mean Brighton won't actually be able to get wide enough to create overloads on the opposition full back which they like to do particularly on the left hand side with Kauro Mitoma and Pervis Estupinan. This is done with Estupinan marauding forwards on the inside of Mitoma which allows Mitoma to cut in onto his right foot as well as giving him an option down the line. As well as this by packing out the sides it will make Brighton's ball retention harder as the wide players will get surrounded by Athens players making it harder for them to play the way they want to. 
Therefore, Brighton will have to adapt their play style if they are to cause AEK Athens many problems. They have two options; one is to use a long ball tactic. De Zerbi doesn't like employing this tactic as he believes that you are betting on your strikers winning the first ball however, he has gone against this by using long balls in the past however it is not the traditional long ball tactic English football fans are used to. Instead, De Zerbi will look to exploit the small gap down the middle of the pitch by playing longer balls over the relative lines of the Athens low block, for example a pass from defense into midfield and then a longer pass into one of the Brighton forwards. However, one player, likely to be Joao Pedro will drop in behind the main striker who is likely to be Evan Ferguson and then he will look to play on the last minute and get a shot off.  
They could also look to use the one-on-one abilities of some of their key forward players. Ansu Fati, Joao Pedro and Solly March are likely to play and they are all fantastic in one-on-one situations with their high pace and close control and it is likely that the Seagulls will look to isolate one of them with the opposition defenders. They will play them close to the vacant middle of the pitch which is an area where any one-on-one is deadly. One of the big vulnerabilities of this Athens tactic is that it is easy for attacking teams to get into dangerous one-on-one situations in central forward areas due to the lack of protection provided by the midfield in central areas and if one of Brighton's forwards can win any of these one-on-one's then they will almost definitely create a big chance.  
The Attack of Athens
AEK Athens will also provide Brighton with their own threats, AEK Athen will look to keep the ball and use their density in wide areas means they will look to get up the pitch with fast and precise passing and get the ball into wide areas with their marauding full backs who will wither look to cross it into the two centre forwards or play a pass inside to try and create an overload on Brighton's centre-backs. The strikers see very little of the ball but when they do it's usually after getting the ball on the half turn and driving at opponents. The two main strikers both have very different pass accuracies as well and this is because they play very different roles. Ezequiel Ponce is very much an orthodox second striker who drops in behind Sergio Araujo and he occupies the channels and will look to play a variety of passes. He's averaging a long pass per game and also has a pass accuracy of 93% which is almost unheard of for a striker. His strike partner Araujo is almost the complete opposite, he makes just eight accurate passes per game at a success rate of 68% however that isn't what he's in the team to do. Araujo takes up very central areas of the pitch and is looking to get onto any loose balls in and around the box so he can have a shot at goal and feed off any scraps.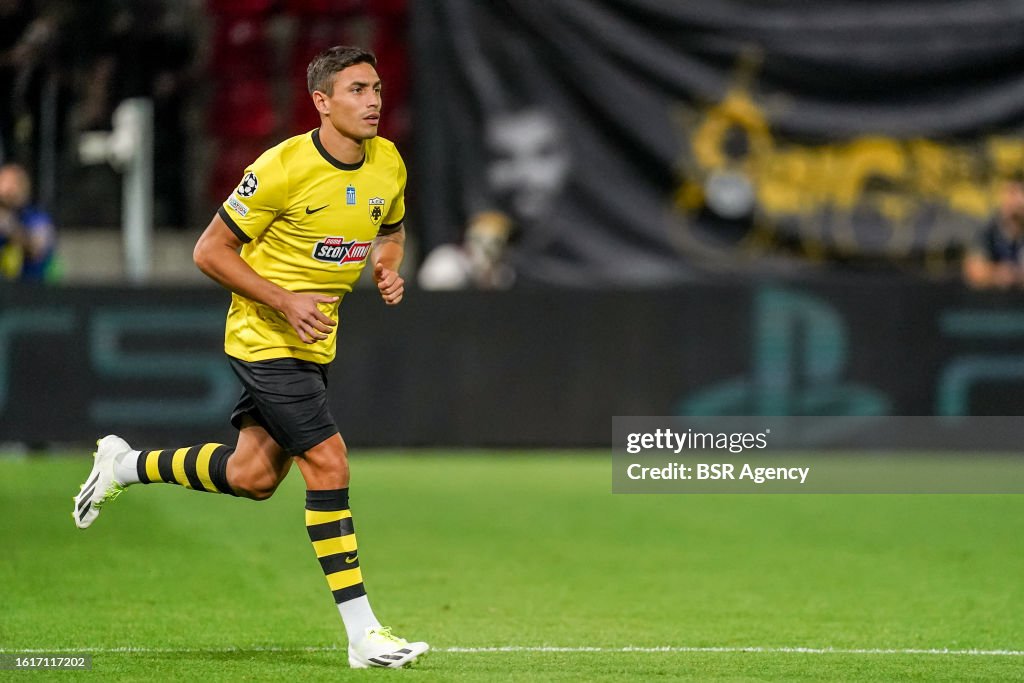 This will be an interesting matchup against Brighton's man-to-man marking approach as that could play into Athens's hands by Ponce dropping into channels it could mean Araujo will be isolated against just one Brighton defender and so therefore a cross could prove a real threat due to his aerial prowess winning 60% of his aerial duels this season. Also, the method of splitting the pitch in two and having five players on either side could prove a real threat with late runners running into the box as it could split the Brighton midfield making them vulnerable. 
Video Preparing For AEK Athens! 🇬🇷 | Brighton's Inside Training