'Monster' Haaland beats season scoring record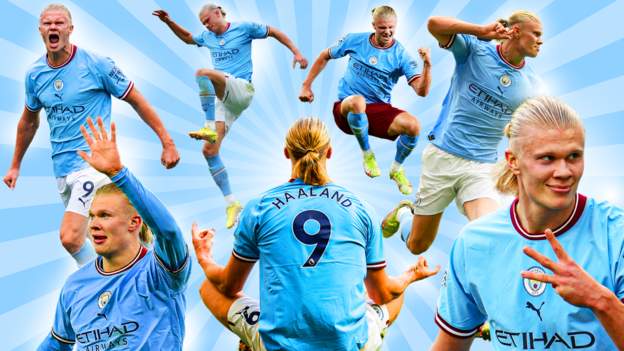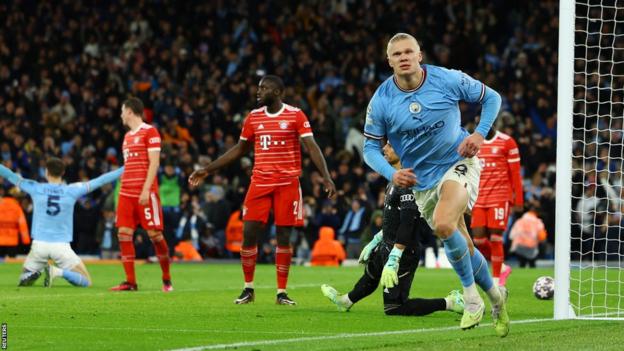 Erling Haaland was called a "monster" and a "beast" as he broke the scoring record by a Premier League player in one season as Manchester City hammered Bayern Munich in the Champions League.
The 22-year-old Norway striker fired in City's third in their 3-0 quarter-final first-leg win to reach another landmark in his first season in English football.
That was his 45th goal for City this season, in just his 39th game, a record for a Premier League player in all competitions.
This was his sixth goal in eight games against German champions Bayern, having played them regularly with Borussia Dortmund, but he had never beaten them before.
"Every team has to fear this player because he is just a monster. He is a beast, congratulations to Manchester City for signing him," former Bayern and Germany striker Mario Gomez told BT Sport.
Haaland only touched the ball 28 times, fewer than any other starting player for either team.
"He is the most efficient striker I have ever seen. His goalscoring is out of this world," said former England midfielder Owen Hargreaves, who played for Bayern and City.
Former City defender Joleon Lescott added: "He is unique. It must be great for the wide players knowing you can put in an area and Haaland will connect."
Haaland also has six assists this season for the Treble chasers, including one in this game – crossing for Bernardo Silva to make it 2-0.
Former Manchester United striker Dion Dublin said on BBC Radio 5 Live: "He did so much work for other players in the game.
"He was never going to be off the scoresheet when City score three goals."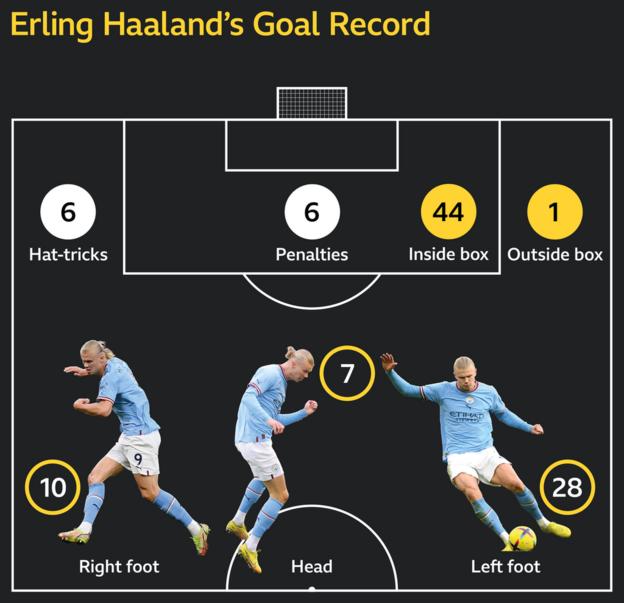 What is this latest Haaland record?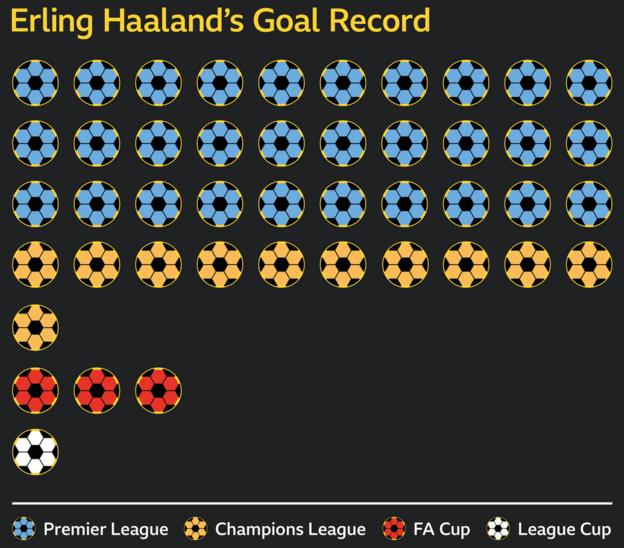 Since the invention of the Premier League in 1992-93, no player has scored 45 goals in all competitions… until now.
Ruud van Nistelrooy hit 44 goals for Manchester United in 2002-03 and Mohamed Salah did the same for Liverpool in 2017-18.
Dutch striker Van Nistelrooy and Egyptian Salah both took 52 games to hit those 44. Haaland broke their record despite playing 13 games fewer.
Van Nistelrooy was in his second season with United when he managed it, and Salah did it in his first year at Liverpool, but he had played in England for Chelsea before.
Haaland may have been born in Leeds, but he moved to Norway at the age of three and had never played in England until this season.
He has scored a wider range of goals than the others, with 28 goals coming via his preferred left foot. Salah scored 36 of his with his left foot, with 33 of Van Nistelrooy's coming from his right.
Haaland has netted 10 with his right foot and seven with his head. Salah managed six and two respectively, with four left-footed goals and seven headers for Van Nistelrooy.
None of Van Nistelrooy's goals came from outside the box, with Haaland only doing it once – but Salah scored five.
With penalties, there is a huge range. Haaland has six, Salah only scored one that season and Van Nistelrooy bagged a huge 12.
The last English top-flight player to score more in a season was Clive Allen of Tottenham in 1986-87, when he hit 49 goals in all competitions for Tottenham.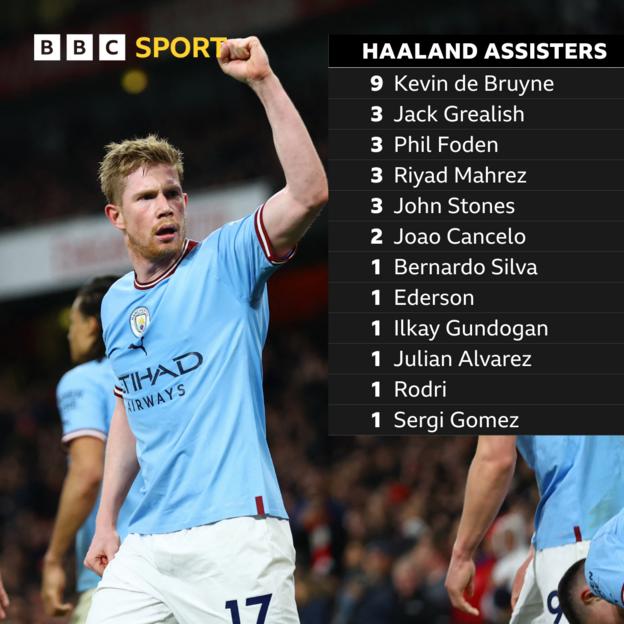 Haaland's 45 goals also breaks his previous best goalscoring season. In 2019-20 he netted a total of 44 goals, 28 for Salzburg and 16 for Dortmund.
This was his 11th Champions League goal of the season, also a personal best. Only Van Nistelrooy (12 in that 2002-03 season) has ever scored more for a Premier League side.
Haaland is City's top goalscorer in a season, a record he broke almost a month ago and has extended since.
Tommy Johnson's 38 goals in 1928-29 had been the club record for 94 years.
What other records could he break?
Haaland, already one of only 12 players to score 30 goals in a Premier League season, will surely break the record for goals in a Premier League season soon.
The record is 34 – by Andy Cole in 1993-94 and Alan Shearer the following season, both in the days of 42 games.
He is only two behind Salah's record in a 38-game season of 32 goals, set in 2017-18.
Haaland has nine Premier League games left to break these records.
Of course football did not begin in 1992 and there are records that even Haaland will struggle to reach.
Dixie Dean scored 60 top-flight goals, and 63 in all competitions, for Everton, in 1927-28 – both records to this day.
Haaland would need to match his entire Premier League goal tally again in the last nine games to break that first record.
But if City go all the way in the Champions League and FA Cup he would have another 15 games to score the 18 goals needed to break Dean's record for all competitions.
He can probably forget Lionel Messi's 2011-12 records for Europe's other major leagues too. The Argentine netted 50 La Liga goals and 73 in all competitions for Barcelona that season.
In the Champions League, Haaland has now passed the 10 goals that were enough to win him the 2020-21 golden boot, but he needs a few more to match Cristiano Ronaldo's 17-goal record of 2013-14.




Video Erling Haaland: Manchester City striker called 'monster' as he beats season scoring record