Liverpool's Henderson linked to West Ham – West Ham News: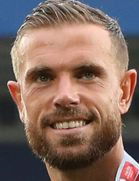 Liverpool's Henderson linked to West Ham
Liverpool's 32 year old Jordan Henderson has been linked with a move  West Ham!
No doubt he will be described as too old but he's a top player but with one season left on his present contract he is a top player and could just be available at a reasonable fee.
Henderson and West Ham looks good shout
Henderson has been mentioned across the media as a possible West Ham target and let's be honest he remains a top player from whom we could probably expect two or three more good years
The age thing is thrown at every player one they approach and pass 30 and to put things in perspective, the peerless Billy Bonds played his last match for us just shy of 42 years of age !!
And anyway what is TOO OLD ?"  There is no exact science to figuring out when a player hits their peak, is still getting better or when they are in decline.
But Henderson still sounds a good shout to us although whether Liverpool or he will want to see him in London is another matter.
The midfielder has now been at the club for 12 years and may have his heart set on spending the remainder of his career at the club but were he looking for one final move this summer the Hammers could be a good shout.
We can now offer him the European football to which he has become used with the club – along with Liverpool – both in the Euro Trophy next season.
No doubt we will hear of many such moves over the next couple of months but this is one that makes an awful lot of sense as the words Hammer Henderson have a very nice ring to them don't they.
Video David James advises David Moyes to LEAVE West Ham on a high this summer 👀🤯