Lionel Messi vs Cristiano Ronaldo: Time to savour the last remnants of the great rivalry
In a quiet, semi-dark press conference at the National Stadium in Bratislava, two days after he was not shortlisted among the Ballon D'Or contenders for the first time in two decades, Cristiano Ronaldo announced to the world: "My rivalry with (Lionel) Messi is over."
Almost philosophically, he dwelled on the rivalry that had defined the last two decades in football: "Those who like Cristiano Ronaldo don't have to hate Messi. They're both very good, they changed football history. He is following his path, I am following mine."
But somewhere deep inside, one could sense that Ronaldo's mind has not yet reconciled with the reality that his rivalry with Messi is over. He would keep touching on the subject, like an aging hero recollecting his glorious youth before his own memory fades out. He did not weep, his eyes were un-moist, but one could sense hollowness in his creaking voice, the void he feels without the contemporary who has fuelled, inspired and driven him to lift his game to the levels that he was not predestined to scale. In a sense, it's a tribute to Messi that he has not just made his own teammates look better, but his great adversary too.
There was even a sense of fraternal bonding, when Ronaldo said: "We've shared the stage for 15 years and we ended up being, I wouldn't say friends because I never dined with him, but we are professional colleagues and we respect each other."
That has been the essence of their rivalry, a pure sporting one, and never an ugly or fractious one, a subtle undercurrent of mutual respect flowing underneath the torrent of excellence. Their careers have been defined by how they fared against each other's teams. An El Clasico within an El Clasico, together they have inspired each other to unprecedented heights. The rivalry had everything; the perfect footballing specimen would be a combination of both, the vision and artistry of Messi, the passion and athleticism of Ronaldo.
Beginning of the end
But the rivalry had been running on fumes for some time. It was almost over once Ronaldo bade farewell to Real Madrid, before Messi too departed to PSG. The Spanish league still writhes in the vacuum, though both Madrid and Barcelona have moved on and rebuilt their teams and identities. The World Cup in Qatar re-stoked the flames of the old rivalry, but so much was happening around Ronaldo then that the narrative arc was Ronaldo versus the world rather than Ronaldo versus Messi.
Lionel Messi and Cristiano Ronaldo during a Champions League match (File)
They had vastly contrasting World Cups too, though both left the stage in tears; Ronaldo in the throes of agony and Messi in the clutch of delirium. But the reality of the departed rivalry struck when Ronaldo did not make the footballer of the year list for the first time in two decades.
For the best part of 16 years, they were imposed over the list. Messi has held the trophy seven times; Ronaldo five. Between 2008 and 2017, it was either Messi or Ronaldo. No one else came close on most occasions.
Their rivalry glamourised the awards night, besides turning the award into a proxy measure of greatness. Before Messi and Ronaldo, the award, running since 1956, and the build-up to the night, was less hyped and ornate. Pundits would dissect and deconstruct the verdict, fans would mourn the rage. Pascal Ferre, the editor of France Football Magazine, that shortlists the players, once said: "Ronaldo has only one ambition, and that is to retire with more Ballons d'Or than Messi. And I know that because he has told me."
Ronaldo would later accuse Ferre of lying. "Ferré lied, he used my name to promote himself and to promote the publication he works for," he said.
Such incidents all embellished the theatre of the night, the suspense that bubbles to the moment when the best player in the world, according to the polls from former players and journalists, is unveiled to the world. It was not pure chance that the players always produced incredible results in the months leading up to the ceremony, Ferre claimed. "I think that if you looked at the statistics of Messi and Ronaldo, you would see they always score a lot of goals in September and October, when the voting is happening. That is not a coincidence," he told The New York Times.
This year, though, there is just Messi. And when Messi is in the list, he often wins it too. Sometimes the voters are accused of being partisan towards the Argentine, but he presents a strong case this year after lifting the destiny-fulfilling World Cup.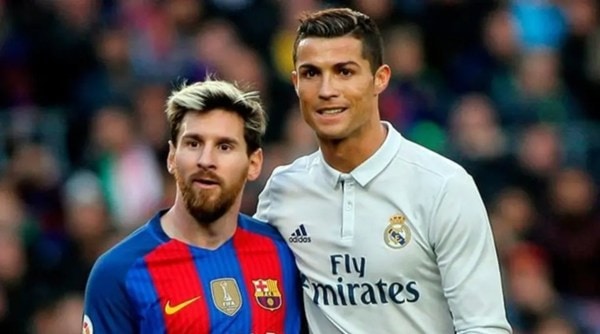 Lionel Messi and Cristiano Ronaldo have won 12 Ballon d'Ors between them.
But he too shall go. It's improbable to see him in another short-list, or his great peer Ronaldo. The Portuguese has shunted himself to a footballing wasteland wooing the elites of Europe with unfathomable riches. Messi has descended in Miami to drag out the last phase of his career, to make fan boys out of Hollywood stars. If not for the World Cup glory, Messi too would not have entered the list.
End of an epoch
Such a probability has a football-doomsday feel, a cold sweat breaking out and peeling off one's skin, crinkles popping in the face, hairline suddenly receding. European football would miss two of the greatest in the game. The audience would suddenly grow old.
Most Read
1
'Shoot me if you want to', Shah Rukh Khan told the underworld as he refused to bow down to pressure; Sanjay Gupta recalls anecdote
2
Jawan director Atlee says film's success is 'all because of Shah Rukh Khan', admits criticism he faces for rehashing similar stories is valid
The only way either of them could enter the nomination list, let alone win, is if they could produce something spectacular with their national teams. Both are fiercely committed to their countries. Last Thursday, Messi unfurled a wondrous free kick to beat Ecuador in a World Cup qualifier. Ronaldo played tenaciously in his team's 1-0 win over Slovakia in the Euro qualifiers. He fluffed a sitter, and in his alacrity to compensate, almost ended up being red-carded for a studs-up challenge on Slovakia's goalkeeper Martin Dubravka. He picked a yellow that would see him miss the next game, but has been influential for his country in the qualifiers, netting five goals in as many games.
Messi has been equally consistent, striking six times in four games. There is ample proof to suggest that they would continue to vie for trophies with their national teams. And trade the occasional swipes as when Ronaldo claimed that "the Saudi league is better than MLS," when asked about whether he'd consider a move to the United States like Messi.
Both could change football in America and Arabia, yet to spot their names in the same Ballon D'Or list looks increasingly unlikely. For the rivalry that once defined football, as Ronaldo said, is over. And now is the time to savour their last days, unstained by loyalties and deification.
Video The Greatest Era of Football – Cristiano Ronaldo & Lionel Messi – HD