Ivan Toney: Striker's future is at Brentford despite eight-month suspension, says Thomas Frank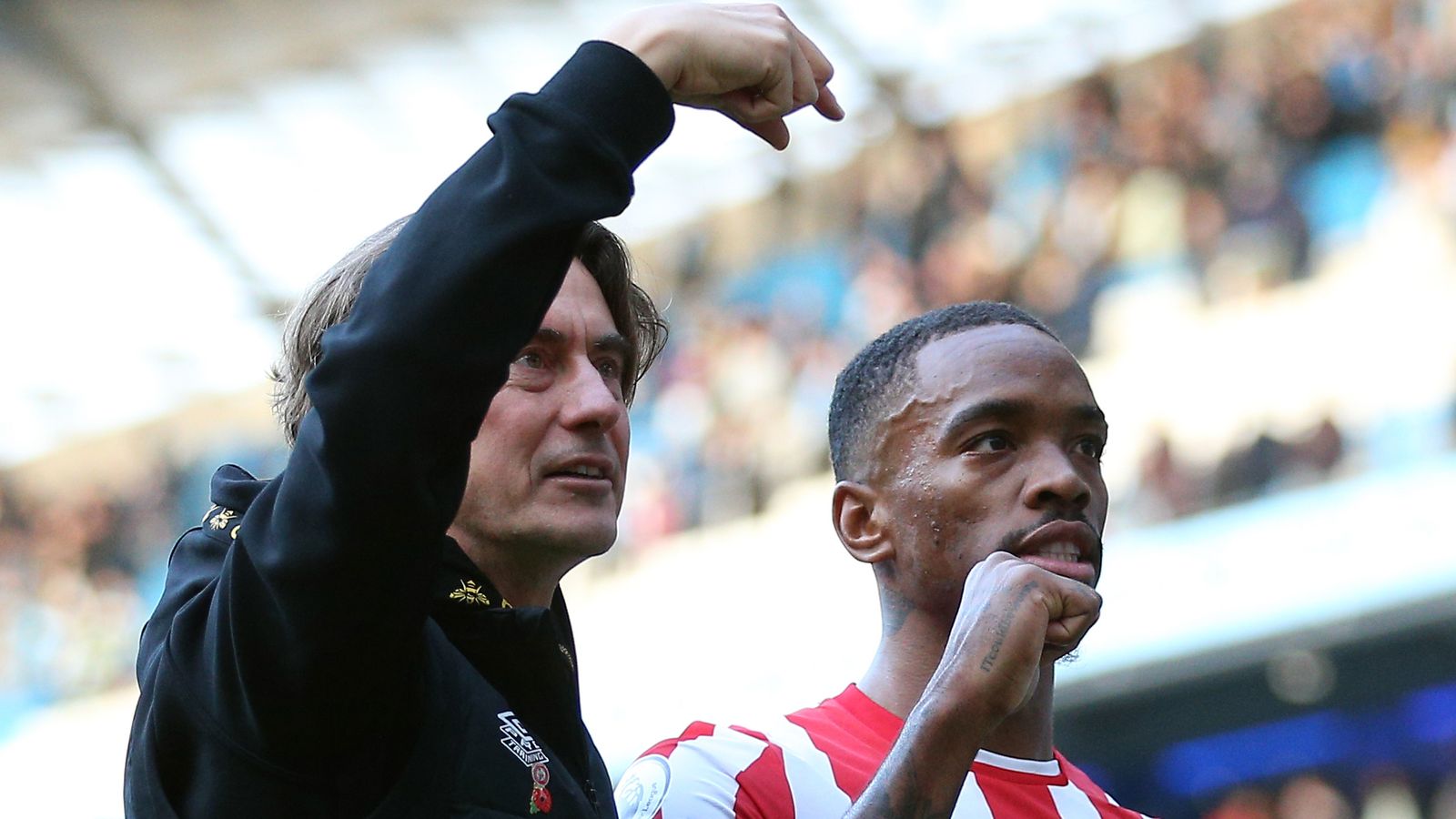 Thomas Frank has insisted that Ivan Toney's future is with Brentford and that the club will support him throughout his eight-month ban.
The striker has been suspended from all football-related activity after breaching the FA's betting rules, with Toney admitting to 232 offences.
The punishment was handed down during a hearing in front of an independent regulatory commission and means the 27-year-old cannot train with his team-mates until September 17.
Toney is now unable to return to the pitch until next year but Frank says his next appearance will be in a Bees shirt, saying: "His future is with Brentford, there's no doubt about that."
Frank also said Kevin Schade's January arrival will help to cover for Toney's absence but did not rule out recruiting another forward in the summer.
"We were, for various reasons, prepared for what would happen if someone in the front line would leave us," explained Frank. "That's why we were very keen on signing Schade in January.
"We actually think in-house that we have some good replacements in [Yoane] Wissa and Schade. We actually spoke about it after the West Ham game, that every time Wissa has to step up, he scores.
"Regarding what we do in the summer, we don't know yet. It's something we need to consider."
Frank also dismissed suggestions Brentford could have sought to loan Toney to a club outside England during his suspension, with the FA applying to FIFA to have the ban extended worldwide.
Frank: Brentford will support Toney
Frank admitted Brentford – who, alongside Toney, can appeal the ban – are currently unsure what work the striker is permitted to carry out having not yet received the written reasons for the FA's decision.
However, the head coach insisted the club will support the player that has scored 33 per cent of their Premier League goals this season, saying: "We will do everything we can to be there for him, support him and be aware of the mental health.
Please use Chrome browser for a more accessible video player
Rob Dorsett discusses the latest with Ivan Toney's eight-month suspension as the FA are set to apply to FIFA to make the ban worldwide

"He's obviously done some mistakes but we want to help him. We just need to know what we're allowed to do.
"We all make mistakes. Who are we to judge that?
"We need to be aware of the mental health. Ivan is a footballer, but he's also a human being who has family and he's been on the front pages quite a lot over the last year."
Frank also revealed he has spoken to Toney following the sanction, saying: "We have been in contact with him. First and foremost he is disappointed and sad about the situation.
"But the uncertainty is probably the worst thing. At least we know what it looks like."
Frank: Football's relationship with gambling 'an issue'
Toney was initially charged with 262 breaches between February 25 2017 and January 23 2021, meaning the majority of offences were committed before he joined Brentford in the summer of 2020.
But Frank refused to bemoan that fact, simply saying the club "must deal with it", but did share his thoughts on what he sees as the troublesome relationship between football and gambling.
"In general there is a gambling issue we need to be aware of in society," said Frank, whose side have a gambling company as their main shirt sponsor.
"It's a challenge for me personally with all the advertising for gambling done by clubs and individuals in the game.
"I think that's an issue for me."
Is the punishment too harsh?
Sky Sports News senior reporter Rob Dorsett:
There are strong opinions on either side. Certainly, it is a massive blow for a player who has made a huge impact for his club, who is at the peak of his powers, but whose future is now shrouded in uncertainty.
Toney has scored 20 goals this season. Only Erling Haaland and Harry Kane have more in the Premier League. He made his England debut in March and has been competing strongly for the role of understudy to Kane in Gareth Southgate's pecking order.
All of that has come to a shuddering halt, for a man whose rise has been meteoric.
Please use Chrome browser for a more accessible video player
Rob Dorsett explains why Brentford striker Ivan Toney has been banned for eight months for breaching the FA's betting rules

He may yet appeal against the severity of his sanction once the written reasons for the independent panel's decision have been made public.
I'm told those written reasons should be published before the end of this season – possibly even next week. Once Toney has made his decision whether to accept his fate or lodge an appeal, the FA will apply to FIFA to make the eight-month ban a worldwide sanction.
The FA takes the issue of players and officials gambling on football so seriously because it strikes at the very heart of the integrity of the sport.
If players were allowed to stake money on the outcome of football matches, or on predicting incidents within games, the integrity of the competition is shot.
Even if the bets are placed on matches in which that player is not involved, there is a lot of insider knowledge within football about goings on at other clubs – and there is no professional footballer in this country that can plead ignorance to the rules.
Before the start of each season, FA officials visit every club and talk to the players and staff about all issues that affect them – including the rules on gambling.
Those who say the ban is too harsh point to the fact that Kieran Trippier only got a 10-week ban for breaching betting rules, and Daniel Sturridge got a six-week ban (with four suspended) for a similar offence.
But in this case, Toney admitted to 232 charges against him. Trippier was found guilty of four charges, and Sturridge three.
Critics also point to the fact that Luis Suarez received only an eight-match ban for using a racist term towards Manchester United's Patrice Evra in 2011. How can Toney get eight months when Suarez only got eight games?
How football as a whole, and the FA specifically, can defend themselves from criticism in this area is because disciplinary decisions of this type are taken by an independent commission.
FA officials carry out the investigation, they level the charges, but they do not decide on the verdict.
And the independent commission is a quasi-judicial process, often led by a top-ranking legal expert such as a barrister or solicitor from the King's Counsel.
Video "BIGGEST VICTIM WILL BE BRENTFORD!" ❌ Simon Jordan discusses Ivan Toney's 8 month betting ban