'I'm not better than Pelé!' – Neymar breaks O Rei's record with Brazil brace vs Bolivia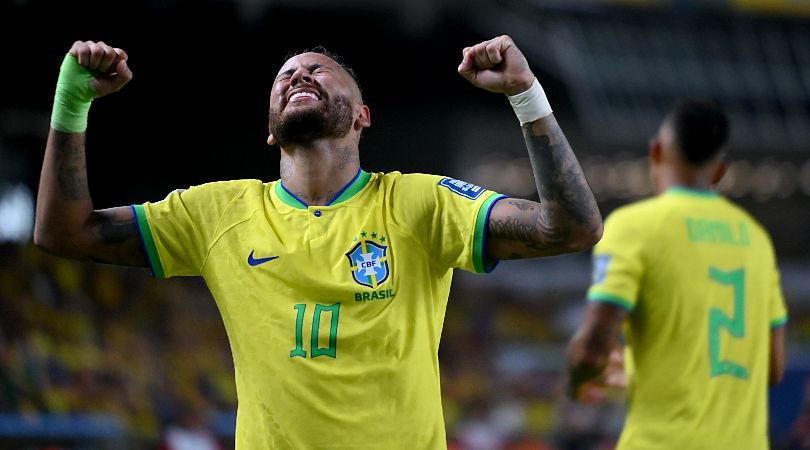 Neymar has surpassed Brazil legend Pelé to become the nation's all-time leading international goal scorer.
The former Barcelona and Paris Saint-Germain forward struck his side's last two goals in their 5-1 win over Bolivia in World Cup qualifying on Saturday night in Belem.
Neymar, who now plays for Al-Hilal in Saudi Arabia, had earlier seen a penalty saved by Guillermo Viscarra in the 17th minute.
Two goals from Real Madrid forward Rodrygo Goes in the first half and another from Barcelona's Raphinha early in the second period saw Brazil move into a 3-0 lead.
But Neymar's moment arrived after 61 minutes when he converted from close range following a low cross to net his 78th goal for Brazil, moving him ahead of Pelé.
The 31-year-old punched the air in a Pelé-style celebration and the CBF, Brazil's football federation, wrote on social media: "78 times Neymar."
Pelé passed away late last year, but his Federation tweeted: "Congratulations, Neymar Jr, for surpassing the King in goals for the Brazilian National Team in official FIFA matches. Surely Pele is applauding you today!"
Neymar scored his 79th goal in added time as Brazil wrapped up a 5-1 win and after the game, he said: "I'm very happy. I never imagined I would break this record.
"But I don't want to say I'm better than Pelé for having beaten this record."
Pelé, of course, won three World Cups with Brazil, while Neymar has not claimed a major international trophy with his national team.
More Neymar stories
Neymar has revealed that the 2022 World Cup could be his last with Brazil.
The Brazilian forward left PSG in the summer to join Saudi Pro League side Al-Hilal in a sensational transfer.
Check out our list of the 20 best individual performances in the Champions League, which includes Neymar.
Video Two-goal Neymar breaks Pele's record as Brazil crush Bolivia 5-1-Ak masud Rana.