'Guardiola won't like it' – Adversity is "fuel" for LFC title challenge
Not much good came out of the weekend, but one positive is that Liverpool will be left riled up and ready for battle this season.
While the football gods, or rather officials' incompetence, conspired against Liverpool on Saturday, the Reds showed spirit in adversity.
Despite going down to nine men, Jurgen Klopp's side were unlucky not to draw the match, with Joel Matip's late own goal proving a heartbreaker for the travelling supporters.
Thankfully, Liverpool fans have been able to see some of the positives, despite losing.
Watch the full show here:
On this week's Live at 5 podcast, Paul Cope said that he thinks the spirit shown on Saturday could be what helps Liverpool towards a title challenge.
Cope also believed that "someone who will have hated seeing all that unfold is Pep Guardiola, because he will have been sitting there thinking the last thing I need is for someone to poke the monster."
The Liverpool supporter explained: "I honestly think that what happened on Saturday could be the fuel that pushes us towards a real league push.
"Because what they've created so quickly, as a bond, is unreal when you look at how many new lads we've got in – Nunez coming on the pitch at the end, all of that.
"There was a few of them said after the game, almost like the old Man United thing that [Alex] Ferguson used to do, 'it's us against the world, you're all against us. I tell you what, we're going to come at you'."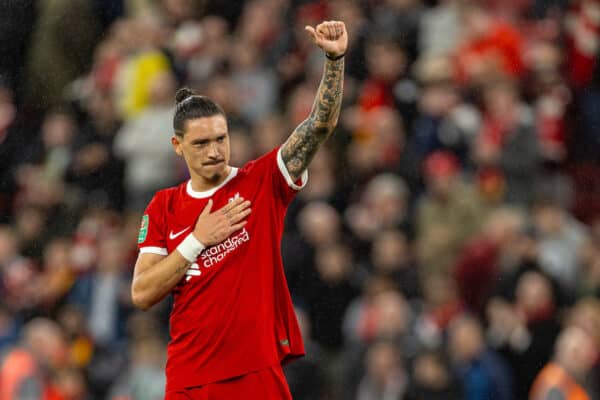 Gareth Roberts agreed, saying: "We're the best underdogs in the league I think, we're the best team in adversity in the league."
Ultimately, Liverpool missed out on the chance to go top of the Premier League, but the result in North London cannot be used to measure Ange Postecoglou and Klopp's teams against each other.
Only time will tell which side emerges more succesful this season, and our money's on Liverpool.
Watch the full show here
---
Paul Cope and Gareth Roberts are speaking on a new show from This Is Anfield and The Late Challenge Podcast.
There is a live show that airs each Monday at 5pm (UK) on This Is Anfield's YouTube, with our second show each Wednesday (UK).
You can also listen as an audio show, here.
Video