Former Manchester United Player Accuses Ronaldo Of Moving To Al Nassr For Money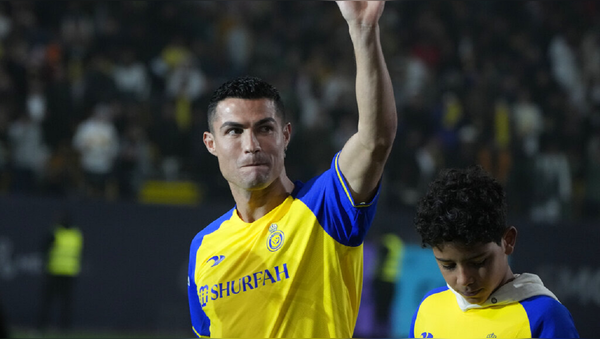 Cristiano Ronaldo joined Al Nassr Football Club in 2022. Photo: AP
KEY HIGHLIGHTS
Cristiano Ronaldo moved to Al Nassr Football Club in 2022
He made his debut for the club earlier this year
Ronaldo has a huge salary at Al Nassr
Cristiano Ronaldo's homecoming to Manchester United didn't turn out to be the way he expected it to happen and the star footballer made a controversial exit from the club. Ronaldo was without a club going into the 2022 FIFA World Cup. A couple of weeks after the end of the World Cup, Ronaldo signed with Al Nassr Football Club and confirmed his move to Saudi Arabia.
Ronaldo made huge gains after signing a deal with the Asian club and he reportedly has a salary of 200 million euros per year. He has a 2.5-year deal and will be in action in Asia in 2024 and a part of 2025.
While Ronaldo's move to Al Nassr has drawn the world's attention to the Saudi league, former Manchester United footballer, Odion Ighalo, is of the opinion that he did it for the money. Speaking to OmaSportsTV, Ighalo said accused Ronaldo of moving to Al Nassr for money instead of having passion.
"When you are young, yes, you play for passion. Back then, you don't care about money. But at my age, I am in the final stretch of my career, I don't know if it will be one, two years or when God will tell it to stop. I know it won't be more than three years. I've played for passion all my life, now it's for money. I'm not one of those players who come and say: 'I play for passion'. Brother, it's money. At the end of the day, it's money," Ighalo said.
"Is Ronaldo still playing out of passion? Ronaldo has earned 100 times more than I have in my entire life and yet he went to Saudi Arabia. Did he do that out of passion? It's for money, bro."
Ronaldo moved to Asia earlier this year with his partner and kids. They live a lavish lifestyle in Saudi Arabia. The former Portugal captain will next be in action on August 1 against Monastir.
Video Former Man United star accuses Ronaldo of only joining Al-Nassr 'for money'