EXPLAINED: Why Cristiano Ronaldo Is Not Playing For Al-Nassr In King Cup Match Vs Ohod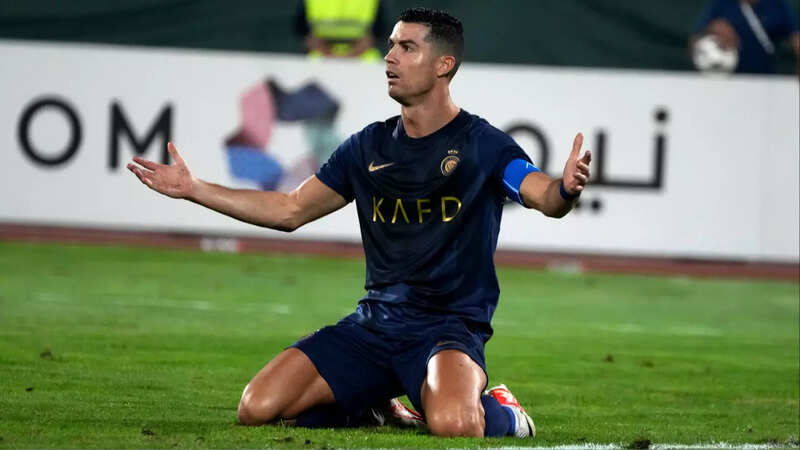 EXPLAINED: Why Cristiano Ronaldo Is Not Playing For Al-Nassr In King Cup Match Vs Ohod
Photo : AP
It was supposed to be a big Monday night for all fans of Cristiano Ronaldo across the world, as Al-Nassr are currently taking on Ohod in the Round of 32 match at the King Cup. However, fans were disappointed as the legendary footballer from Portugal is definitely not featuring in the lineup for the game. In fact, Cristiano Ronaldo is not even in the team on the substitutes bench.
This is perhaps because Ronaldo is being rested, in what can be a case of workload management. Al-Nassr played against Al-Ahli on September 22, and are playing just 3 days later. The head coach did not want to play Ronaldo for the second time in a short span of time.
With age catching up to the 38-year-old superstar, it seems that Cristiano Ronaldo is being rested keeping in mind the Saudi Pro League game on September. Hence, if Ronaldo played against Ohod tonight, he would have played 3 matches in a row including the match vs Al-Ta'ee. This is something that could have caused a lot of fatigue to the ageing Ronaldo.
In Al-Nassr's last win against Al-Ahli , Cristiano Ronaldo suffered an injury scare. The Portuguese superstar scored a brace as he displayed a sensational performance again. Ronaldo is currently the top scorer of the Saudi Pro League with 9 goals, and hence would be crucial for the team to continue his form as the league continues on September 29.
Again, Ohod is a Saudi second division side, and Al-Nassr have a lot of stars at their disposal who can easily win the game on their own hands without the presence of Cristiano Ronaldo in their lineup. Apart from Ronaldo, star midfielder Marcelo Brozovic has also been rested for the clash at the Kings Cup. In the absence of Ronldo, Sadio Mane is leading the line.
Video Al Nassr vs Ohod Live | Saudi King's Cup 2023 | Full Match Streaming