Coach says 'Bruno Fernandes 2.0' Man United target would shine in Premier League
Benfica ace Joao Neves has been dubbed the second coming of Bruno Fernandes and his former coach sees no reason why the midfielder cannot 'shine' at Premier League giants Manchester United.
While Joao Neves has been nicknamed 'Bruno Fernandes 2.0' by some, the teenager is not quite a clone of the Manchester United captain. A regular in the Benfica XI already at the age of 18, Neves does much of his best work in a deeper role, dictating proceedings from the 'number six' spot rather than breaking into the penalty area a la Fernandes at Turf Moor.
Neves, then, may not be Fernandes' long-term replacement, but instead a solution to the club's defensive midfield issues.
With neither Christian Eriksen nor Casemiro getting any younger, and with Sofyan Amrabat only on loan, United appear to be scouring the market for a deep-lying playmaker. The Sun reported last month that talks between Benfica and the Red Devils have already taken place, Neves seemingly joining Royal Antwerp's Arthur Vermeeren on the radar of a United side eyeing some of Europe's most exciting teenage midfielders.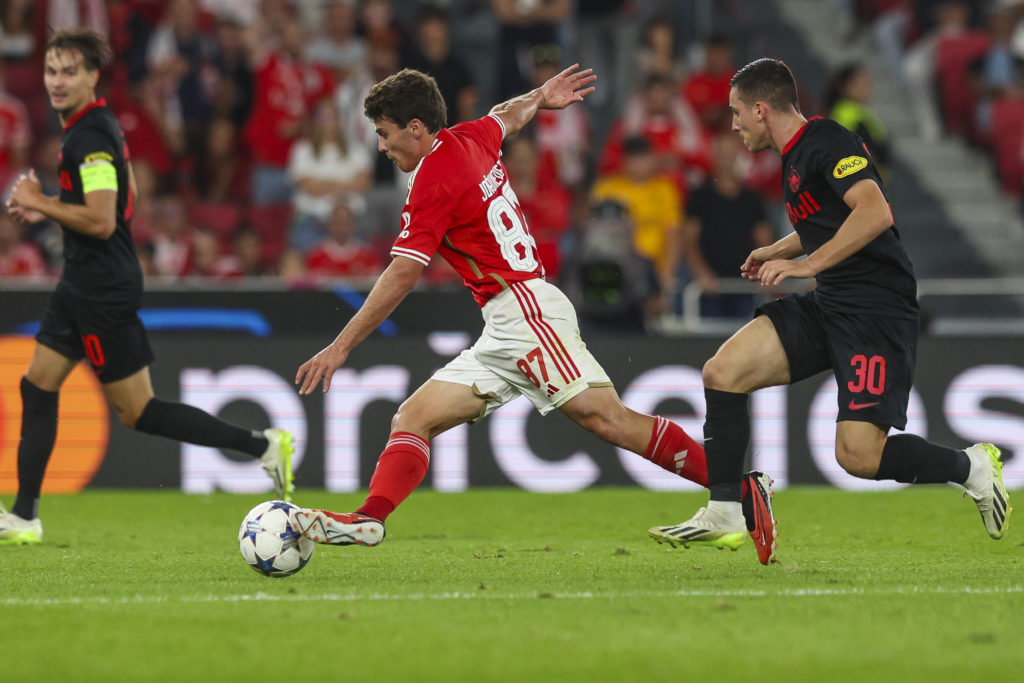 Manchester United in Benfica talks over Joao Neves
There will, of course, be concerns in some quarters about Neves making such a move too early in his career. Those fears are not shared by Luis Castro, howeve;, the coach well-versed with Neves' twinkle-toed talents due to their time together in the Benfica academy.
"(Neves) once again demonstrated the quality he has, now showcasing himself in the Champions League. He was one of the best on the field," Castro tells O Jogo, the Portugal U21 international a bright spark in Benfica's 2-0 defeat against Red Bull Salzburg last week.
"He is the most complete of all (the Benfica midfielders). "
Castro believes that there is no midfielder in the Benfica squad capable of matching Neves' remarkably-well-rounded skillset. Not even the big-money summer signing – and one-time United target – Orkun Kokcu.
MORE UNITED STORIES
Joao Neves 'would shine' in the Premier League
"My friends ask me; 'If Kokcu costs 25 million euros, how much will Joao Neves cost?'. He will be worth much more than 25 million euros!" Castro adds.
"His quality is visible to everyone. He does everything well. At this age, he seems to have more experience, and that the result of the speed at which his brain works. He has great defensive and offensive positioning, he reads the whole game.
"(He) has everything. He's very strong in every aspect, even in the air.
(Neves can) play in any league in the world. The Premier League is the best league in the world. And not only would he be able to adapt, he would play and shine.
"I believe that, if and when he makes the jump, he will be ready."
Video