Chandler's Ca'Lil Valentine Talks Top 8 And Visits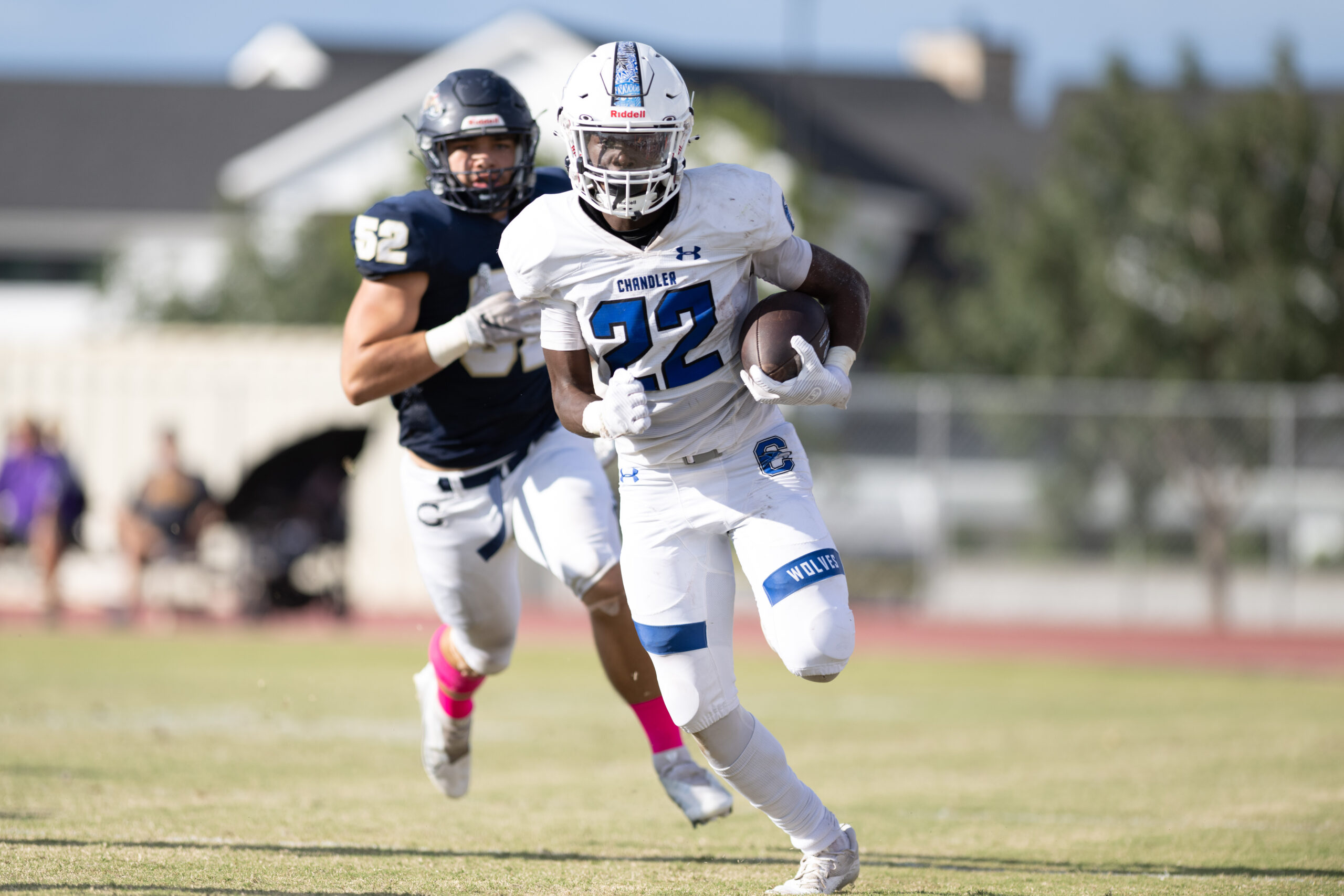 Ca'Lil Valentine – 2024 Chandler, RB
Third-year Chandler Wolves varsity starter Ca'Lil Valentine announced his top eight schools on May 26. The programs he is now focussing his recruitment on are Auburn, Oregon, Utah, Penn State, Michigan State, Oregon State, Illinois and Miami. He will be committing to one of the eight programs back home in the Bay Area on July 8. 
Valentine says that the eight schools that he's pouring his attention into are the programs he's built the strongest relationships with throughout his recruitment. 
"Everybody's like neck and neck. But like once I go on my official visits, then yeah, I'll be able to see which ones are a better fit than others."
I'd like to thank God, and all the coaches that have recruited me. I am blessed to say that I am now down to my final eight schools!! pic.twitter.com/mR1pShzSP8

— _2.offcial_ (@CalilValentine) May 26, 2023
This summer Ca'Lil is focussing on training and traveling. His recent travels include visits to Miami, Utah and his childhood dream school. Valentine expanded on some of the schools he's already had a chance to visit and discussed offers that came late in his recruitment but still made the cut.
Oregon
"Oregon was definitely growing up was a dream school. It was my dream school. I had the workout shoes, all the Oregon stuff you can think of. So that was really a blessing going to the stadium just like thinking like, wow, I'm really here. It really amazed me. And it was really a good opportunity to be there."
Coaching staff – "Coach Lock is a very good coach. I like his humor. He calls himself the walk-on coach. So he's not really a 'Oh, all football, all football.' He really enjoys and really likes to talk to you more than football."
Up The Sco!!🦆🦆 @Locklyn33 @CoachDanLanning @JordanSom_UO @GarretsonRick pic.twitter.com/elTVWYvxle

— _2.offcial_ (@CalilValentine) January 30, 2023
Miami
"Miami was great. It was like probably my second third time in Florida. I love the weather out there. And I love their facilities, especially watching the practice. So it was a better experience to be able to watch their practice."
Ca'lil says assistant running backs coach Tim "Ice" Harris made a great impression on him as well. Despite only being on the Hurricanes coaching staff for a few months, Valentine left with a lot of insight on their potential plans for him. 
The U??🌴@coach_cristobal @CoachT_HarrisJR pic.twitter.com/gIqOD8hLoM

— _2.offcial_ (@CalilValentine) April 1, 2023
Utah
Ca'Lil took an unofficial visit to Utah where he formed a Bay Area connection with the running backs coach.
"Coach Quinton, he's a great coach. We talk a lot. We talk often. He's from the Bay Area, which is where I'm from. So we talk a lot and we have a close relationship. So it was really cool. I talk with the head coach sometimes, you know, and the OC so it's going good."
Utes??@coachqganther 📌 pic.twitter.com/m1Cp0WT0pU

— _2.offcial_ (@CalilValentine) April 24, 2023
Illinois
Despite Illinois coming in as one of his most recent offers, the Fighting Illini worked their way into his top eight programs. His offer from Illinois followed spring football and rolled in on May 17.
"Coach Ward, he definitely made his presence known. He came down to my school when it was that time to come down and see players. He came down a lot more often than other coaches. He made it seem like, 'Okay, I want you and you, I want that kid and I want you to be at Illinois.' So it just it was a great experience talking to him coming down."
— _2.offcial_ (@CalilValentine) June 7, 2023
"I see myself fitting in most of these programs very well. I for sure see red-shirting or doing something right away and getting bigger for sure. That was one of my biggest goals for this offseason and going into college. So I think I could see myself playing anywhere and any position on the field, defense or offense. I think I'm very versatile and I can do anything on the I field so I think I'll fit in anywhere I go."
Time is coming!! Would love for media to show up! Text my DM for more info! pic.twitter.com/B5k2bccLrn

— _2.offcial_ (@CalilValentine) June 8, 2023
Video